Implant Supported Dentures
This prosthesis is used in special situations for patients who have enough bone in the anterior regions of the lower or upper jaws, but limited amount of bone in the posterior regions and are not candidates for extensive bone grafting.
At times, it is necessary for all teeth to be removed due to extensive periodontal disease and/or due to decay. An alternative for the replacement of all the teeth is a complete upper and/or lower denture. These dentures require support from your gum pad and many times require the use of dental adhesive. Throughout life, the dentures require constant adjustment and refitting, and can cause the jaw bone to melt away making the dentures loose and once again requiring continuous adjustment.
This type of denture is made to be placed in the mouth immediately after you have all your natural teeth extracted. This allows you to leave the office without the embarrassment of having no teeth while the gums heal from the extraction. The denture is made to conform to your mouth at the moment impressions were taken. Your gums will change drastically over the next few months and it is possible that the dentures will rub against the gums causing some soreness until the denture is adjusted. Most patients will require a realignment of their denture within the first few months due to the gums shrinking from the extraction of teeth. Another benefit of immediate dentures is the fact that the dentures act as a bandage to the extraction sites which covers the tooth sockets and prevents them from becoming irritated. Just remember, never remove the denture yourself, even for a brief moment unless your dentist has instructed you to. The gums have a tendency to swell when uncovered at first; and if you are without your dentures for a little while, they may never go back in.
An over denture fits on top of natural teeth or dental implants. Many patients suffer with ill fitting and loose dentures that move or even fall out when speaking or eating. One way of solving this problem is to construct a dental plate that goes over and attaches to something underneath it. Keeping a few natural teeth or placing dental implants in the bone under the denture also helps keep the jaw bone healthy. This avoids much of the natural jaw bone loss often seen after teeth are removed. Traditional over dentures go over natural teeth. A denture can be made that goes over and attaches to one or both cuspids. Implants supported over dentures fit on top of dental implants. A retainer bar or retention balls are placed on the implants and special attachments are inserted into the denture to grab onto these retention devices. A new method using mini implant dentures is becoming increasingly popular. Mini implants are very thin, long titanium implants that screw into the jaw bone. They can be placed and old dentures can often be retrofitted to the implant.
Removable partial dentures are composed of a metal framework with plastic teeth and gum areas. The framework includes metal clasps or other attachments, which hold the denture in place. Partial dentures are removed easily for cleaning.
Clasps are C-shaped, I-shaped, and Y-shaped parts of the denture framework that fit around neighboring natural teeth. These teeth may require shaping to help hold the clasps and keep the denture securely in place.
Flexible Partial Dentures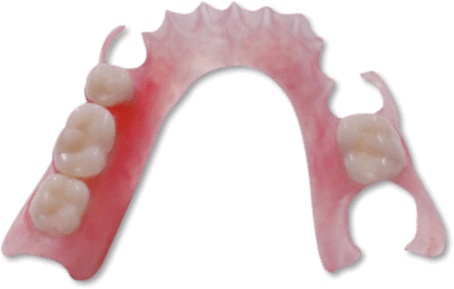 A rather comfortable tooth replacement option is a flexible partial denture. These dentures are made from a composite plastic resin and can include a bio-compatible metal for superior strength in some cases.
A precision partial is held in place by a specifically shaped extension that locks into an area on a natural tooth that has been crowned. This ensures that the denture will not slip or come out when speaking or chewing.
Implants allow you to wear full dentures and partial dentures without fear that they will slip or fall out. A "snap-in" denture is an implant supported, removable denture. The snap-in feature is available for upper or lower dentures. Having implant supported dentures allows for the base of the denture to be made much smaller and more comfortable. Implant supported dentures enhance chewing and speaking. Never again will you have to worry about your teeth falling out when you eat, laugh or speak. You will regain chewing function and enjoy some forgotten foods.
Soft dentures are a flexible alternative to more common hard dentures crafted out of acrylic. These dentures don't require adhesives and adjust to the shape of the gums for greater comfort. Soft dentures are only called that because the inner lining is soft. They're otherwise similar to ordinary dentures, which can be altered to have flexible linings.
A Beautiful Smile Is Waiting For You
Our office provides smile makeovers to achieve the beautiful, natural look you seek. We can reshape your natural teeth to make them straighter and more youthful. Our office is easily accessible and makes it convenient to those living near Boca Raton to get the care they deserve.